About Us
Welcome to Highly Artistic Surgery!
A decision to have plastic surgery or non-surgical rejuvenation is a very personal and difficult decision. However, when that decision is already made, selecting out a clinic is relatively simple when you consider three important factors: quality of care, result, and patient safety. Highly Artistic Surgery was founded in 2010 by Dr. Ha to respond to this particular concerns.
We started out by setting up our clinic in a welcoming, comfortable environment that also ensures privacy and confidentiality. Our clinic was designed by Dr. Ha's good friend, Melanie Martin, a well-known interior designer from Alabama. The clinic has a distinctive and gentle modern style which would soothe any emotion. It's conveniently located next to Pomerado Hospital and less than 5 minutes away from I-15/San Diego Freeway.
Our state-of-the-art surgical suite is certified with the highest level of accreditation by the American Association for Accreditation of Ambulatory Surgery Facilities. This means that our clinic has met the most stringent criteria set forth by federal and state laws to ensure patient safety before, during, and after surgery, even for surgery under general anesthesia. The quality and the safety measures of our surgery center must be at least the same as those of a hospital-associated operating room. In fact, California law prohibits physicians from performing any procedure in their office or surgery center where there are risks for patient's breathing ability, unless the center is certified by AAAASF, AAAHC, IMQ, or Medicare.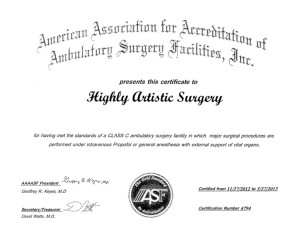 Warm human touch is important here. Our staffs were selected from the brightest with the greatest work ethnic. Their training was emphasized on clear communication and best patient care. During surgical process, you will be cared for by our board-certified anesthetist and nurse. So, regardless of what you're here for, from a microdermabrasion to a major full facial rejuvenation surgery, rest assured that you will be in good, caring hands.

Finally, specialization is our way to go. Although Dr. Ha has extensive training in variety of specialties, Highly Artistic Surgery has been primarily focused on the rejuventation and aesthetic improvement of the head, neck, and face regions. This allows the clinic to bring all state-of-the-art technologies and surgical expertise to offer you a beautiful, youth face. After all, trust your face in the hand of a facial plastic and reconstructive surgeon!